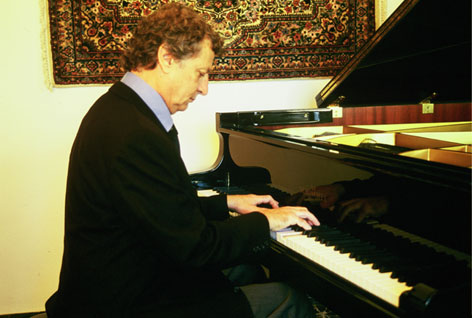 FRANCESCO CIPRIANO
CURRICULUM
I started my artistic activity when I was three years of age, singing in competitions and subsequently with RAI, Italian broadcasting corporation. From the age of seven, I was part of the children's voices of the Lucchese Opera Chorus with performances in operas at Lucca, Pisa, Livorno, and Torre del Lago Puccini. I began my piano studies at the age of eleven in the introductory class of Professor Margherita Bertolucci at the Istituto Musicale "Luigi Boccherini". In 1968, while still a student, I won First Prize at the first national competition of the City of Osimo. After graduating with honours I began my concert career which led me to perform as a soloist (piano or harpsichord), with chamber ensembles and with orchestras in Italy and abroad.
In 1981 I received my diploma in harpsichord with a score of 10/10 at the Cherubini Conservatoire in Florence.
I studied composition with Enzo Borlenghi at the Istituto Musicale "Luigi Boccherini" and privately with Gaetano Giani Luporini.
Since 1968 I have collaborated with La Nazione newspaper as a music critic. I am a member of the Association of Journalists as a publicist. I founded and have directed since December 2002, the monthly magazine LuccaMusica (luccamusica.it).
From 1970 to 2010 I was the main piano teacher at the Istituto Musicale "P. Mascagni" in Livorno.
From 1986 to 1991 I was artistic director of the "Franz Liszt" piano festival in Lucca.
I have recorded television broadcasts with RAI TV and private broadcasters.
I have recorded two CDs containing the first ever recording of Domenico Puccini's piano sonatas.
I have composed chamber arias for voice and piano, piano pieces, and several orchestral works.
My opera La Mente ("The Mind") for baritone and piano (text by Mirella Maccari Armani ) won first prize at Piombino's national "World of Art" competition for chamber arias in 2009 and is part of the concert repertoire of baritone Massimo Cavalletti (latest performance: London, 8 February 2011)
My narrative symphony Il Serchio Racconta (The River Serchio Narrates) with orchestration by Arduino Gottardo was premièred in August, 2010 by the Orchestra of the Puccini Festival in Torre Del Lago conducted by Valerio Galli.
I am president of the Lucca contemporary music association "CLUSTER", founded in 2009.
In May, 2011 the Milan publisher Rugginenti issued Le Novelle di Tommaso ("Tommaso's Novellas"), four original short stories for pupils in primary and secondary schools. The volume contains the plot, an outline plan for teachers with the most distinctive musical references, the score for narrator and piano and a CD, recorded by the author, including a brief listening introduction to each story.
I am a co-founder and member of the UNESCO Club of Lucca.
I am a member of the "Lucca Host" Lions Club which was awarded the prestigious "Melvin Jones" prize for cultural contribution.
Upcoming international commitments include: 9th and 10th May in Berlin (Sonnabend, 6 PM) with a new composition "O crus ave" for baritone, choir and organ.